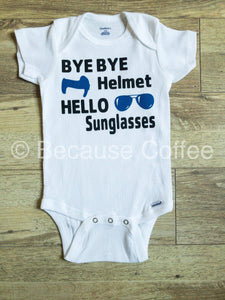 Congratulations on finishing the helmet journey!! This design is very close to my heart! My son was diagnosed with Plaigocephaly (flat spot) and Torticollis (tightened neck muscles) at 4 weeks old. He developed it in womb. When he was 4 months old, we found out that despite our efforts, he needed a cranial band (AKA Helmet).
This is intentionally less expensive than the other onesies that I offer. Simply because families going through this experience are already going through enough, and can use a break :)
NOW YOU CAN PURCHASE A MATCHING ONESIE FOR YOUR TINY NOGGINS DOLL (DOLL NOT INCLUDED).
This design uses a genuine Gerber Onesie.
Size Guide:
Newborn- 5-8 lbs
0-3 Months- 8-12 lbs
3-6 Months- 12-16 lbs
6-9 Months- 16-20 lbs
9-12 Months- 20-24 lbs
12-18 Months- 24-28 lbs
18-24 Months- 28-32 lbs
All options are on a white onesie with black text. The color option is for the helmet and sunglasses.
In order to maintain the quality of your design, please following the instructions below.
Care Instructions:
- Turn Garment Inside Out Before Washing
- Machine Wash Cold, with Mild Detergent
- Tumble Dry Low, or Hang to Dry
- Do not Iron Directly on the design
- No Bleach